NEW
Inland Sea
"I know the words now if not the facts," Lynn Domina writes in her piercingly honest new book, Inland Sea. That sea is her beloved Lake Superior. It's also the history that churns and laps inside Domina, and inside all of us. Here are poems that confront various ways we might disappear: in music, in water, in anger, or in the slow fade of an old polaroid. Here, too, are poems that remind us where we find our lives: in driftwood, ice, maps, spruce, sparrows, pencils, cookbooks, kindness, and, yes, in the very places we might also disappear. In navigating what we remember, what we forget, and what we regret, Domina performs an act of communion for all who believe and all who don't. These poems are devastating and incantatory. They come from life, and they will remind you how to live.
Cindy Hunter Morgan, author of Harborless and Far Company
Inland Sea limns the frosted, shivery sublime of Lake Superior. In this paean to "brutal storms" and "crushed ice banks," Domina's awareness is shaped by danger, the black bear that may break into more than the ice cream truck and the hidden erosions formed by unspoken words in any season. The ringing, forthright beauty of these poems and the bracing evocation of a Michigan landscape emerge from a voice that earns trust. You believe Lynn Domina when she says "I want to live / here forever."
Lee Upton, author of The Day Every Day Is
These poems are themselves psalms, but ones full of the stuff of the world, messy and ordinary and beautiful and divine, psalms the kind Kinnell would sing or Clifton or Stone. Very often, reading these poems I would find myself stunned fine with wonder. This book contains wisdoms of many lifetimes.
Kazim Ali, author of Inquisition and Sky Ward
Devotions from HERstory:
31 Days with Women of Faith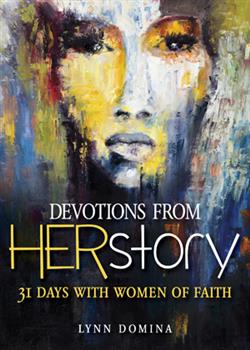 Women have often remained hidden in history, including religious history.  This book attempts to honor many women who have come before us by connecting their stories across time as a resource for our own devotional lives.
Each day's devotion features an illustration and brief biographical sketch of the featured woman, a Scripture that connects a biblical woman's story with a more recent "HERstory," as well as a prayer-poem, a question for personal meditation or group conversation, and an idea for action inspired by the women's stories. From the medieval mystic Julian of Norwich to the contemporary Supreme Court Justice Sonia Sotomayor, the women herein offer today's readers inspiring models for the life of faith today.
Framed in Silence
Read a Poem from Framed in Silence
From the Reviews:
"Framed in Silence is full of daring energy. But even when exuberant, Domina's base in the sciences keeps her firmly on the ground. In the pivotal poem "Orange Hybrid Magic," she says "Facts enchant me," and she, in turn, has the power to enchant us"—Tam Lin Neville, Salamander
"Lynn Domina's second book, Framed in Silence, operates within the general spiritual tradition of Hopkins, yet she offers a vocabularly that readers are able to deconstruct and appreciate, and a theology concurrently progressive and rooted in tradition…Domina seems aware of the unique role of poet as practical theologian"—Nick Ripatrazone, Dappled Things
Corporal Works
Read a Poem from Corporal Works
From the Reviews:
"In Domina's lean verse, we get glimpses of thin, intensive slices of time which, although bearing intimations of the past and future, focus resolutely on the present…Her images and metaphors are innovative and thought-provoking,…her refusal to resolve complex issues simplistically and bluntly requires that the reader mull over the significance of her experience and expression"                    —John R. Black, Carolina Quarterly
"These poems, mythic in their reach, are appropriately characterized by a shadowy sense of mystery and a persuasive tone of objectivity"—Mary Jo Bang, Boston Review
"The reader never questions Domina's sincerity or authority because she is in control of her language and interested in communicating clearly with her audience. Striking sensory details abound…Highly recommended for all collections"—B. Galvin, Choice
Poets on the Psalms
 From the Reviews:
"Poets on the Psalms is a highly readable, accessible, and fascinating meditation on the Bible, God, and art that would be of interest to the general reader as well as the specialist. It's recommended for public, academic and parish / synagogue collections"—Marie Cloutier, Catholic Library World
"Domina's collection of essays is stimulating. A wide range of poets, topics, and perspectives is represented in these essays…Worth the read alone was the rediscovery that as a preacher I can employ with much greater effectiveness those psalms that voice emotions and concerns that I may be too timid to utter on my own"—Rick Stern, Homiletic
"The imaginative writing and challenging thinking in Poets on the Psalms yield rich rewards. I was drawn into every piece, and I have already re-read some—a single reading only begins to reveal all the ideas, images, questions, and surprises that are to be encountered. Poets on the Psalms engages heart and mind and opens many windows into the ancient treasure house that is the Psalms. May these essays be given the attention that they so richly deserve"—Linda Williams, Christian Feminism Today
"For most readers, the psalms are at once magnificent poetry and a source of intense spiritual depth. But it's a rare treat to hear contemporary poets talk about why they of all people believe this is so. In her book Poets on the Psalms, poet Lynn Domina has done us all a service in collecting essays by contemporary poets…that guide us into the heart of the psalms through pathways that are personal and particular–never cliché"—Image Update
"You'll agree with some writers and argue with others. I did. But you'll find these gem-like moments that you'll remember after the book is done"—David Crumm, Read the Spirit
Buy from Trinity University Press
The Historian's Passing
"This meticulously annotated edition of Nella Larsen's novel Passing contextualizes the novel's many historical and cultural references and introduces readers to a central theme: crossing the color line in the hopes of living a more privileged life."
"Another distinguishing feature of this edition is that it situates Passing in larger social structures in order to aid readers' grasp of the novel's themes, allusions, and significance. For example, the book opens with a chronology organized in two columns, one called "Key Events in American History" and the other called "Key Events in Nella Larsen's Life." This useful teaching tool enables readers to understand Larsen's biography and publications in the context of legal, social, and cultural US history. Beginning in 1788 with the inclusion of slavery in the US Constitution and ending with the fall of Saigon in 1975, the chronology emphasizes the history of US racial formations and sets the stage for two fifteen-page introductory essays that follow. The first provides a succinct overview of Larsen's biography, underscoring how her "identity as a mixed-race person situated within her specific mixed-race family" was pivotal to her life and professional careers (1). The second outlines the events, places, laws, and ideologies that affected Larsen and the issues she explores in Passing. Synthesizing a great deal of interdisciplinary material in lucid and lively prose, Domina offers teaching aids that could be used as models for student papers and a springboard for discussion and further research." –Linda Grasso, Legacy: A Journal of American Women Writers
The Harlem Renaissance: Historical Explorations of Literature
A perfect guide for use in high school classes, this book explores the fascinating literature of the Harlem Renaissance, reviewing classic works in the context of the history, society, and culture of its time.
Understanding Ceremony
From the Reviews:
"Domina presents the material in an accessible and comprehensive fashion…The included documents are …highly relevant to student understanding of Silko's work. The writing is clear and concise. Recommended for high school and academic libraries"—Tiffany R. Walsh, Catholic Library World
Understanding A Raisin in the Sun